Brand new sealed solid wood speaker system using the ASCT technology
Light Years 01
Light Years 01 is the selected products of "2017 good design Gunma".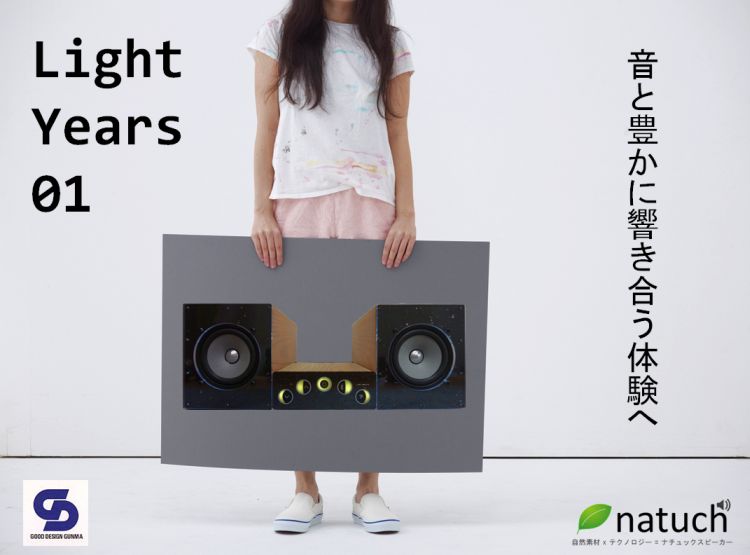 For more information please refer to [Light Years 01 sound quality and features].
Technical information Light of Years 01 is also published on the engineer's blog.please see it.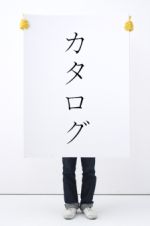 DOWNLOAD Catalog (Japanese only)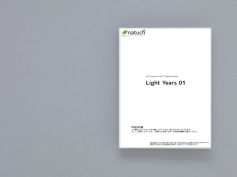 DOWNLOAD Manual (Japanese only)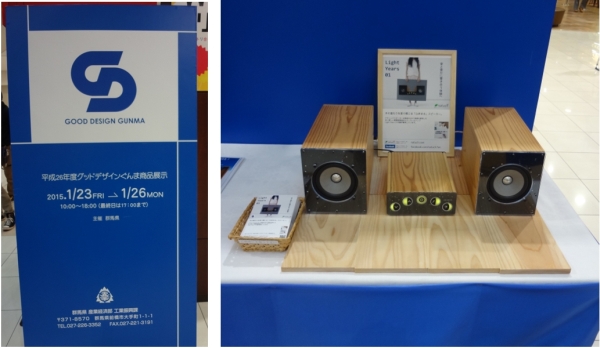 "Good design Gunma" product exhibition
How to setting light Years 01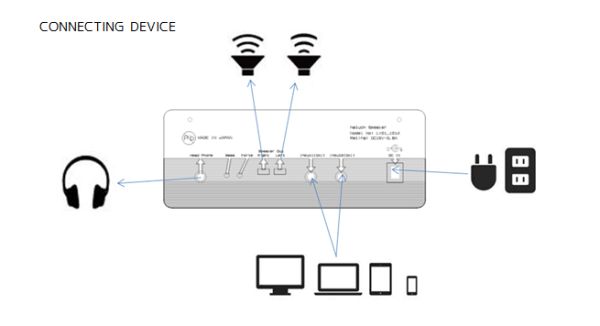 Light Years 01 (light ears) is easily available so that a manual is unnecessary, but
for those who "Not good at Machines", setting method would be introduced.

The Light Years 01 will be delivered in cardboard box attached photo labels.
Receiving your product, please check any damage of the product and
the contents at the same time.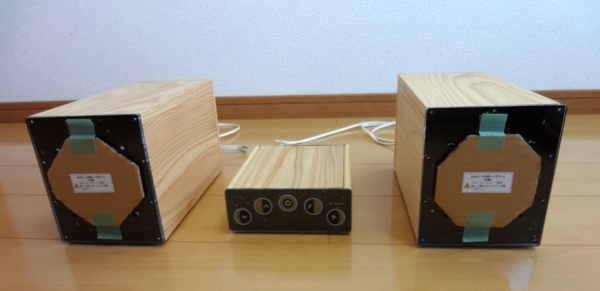 Removing bubble wrap packaging, this is like that.
Protective cardboard is attached in order to hurt cone paper of speaker parts.After all setting is completed, please remove it with care.
"Right side" or "Left side" is described on the protective cardboard of speakers.
By the way…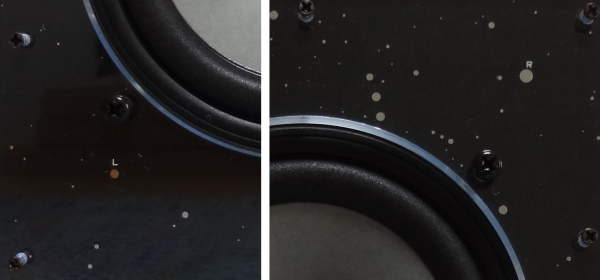 Left (L) and right (R) are printed quietly on the speaker side too. By the way, left under the R symbol is Orion.
R mark doubles as the constellation Orion Rigel's initials.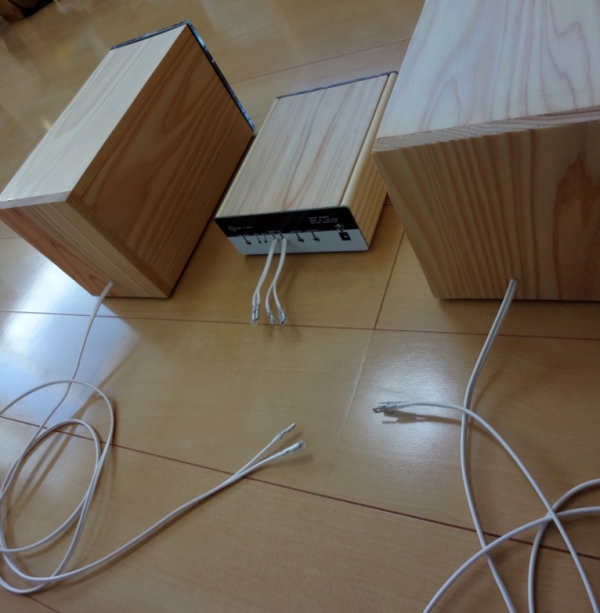 First, the speaker cable connects the amplifier.
Please be careful not to get hurt because the terminal installation is hard.
The terminal can connect only one direction, it is considered so that it is not connected by mistake.
the vinyl cover attached to the terminal is intended to prevent short-circuiting between terminals .Please make sure it should be used that the terminal is covered with vinyl cover.

Left speaker is connected. (Left photo).
Right speaker is connected (Right photo) too. The terminal is covered with vinyl cover in order to prevent short-circuiting.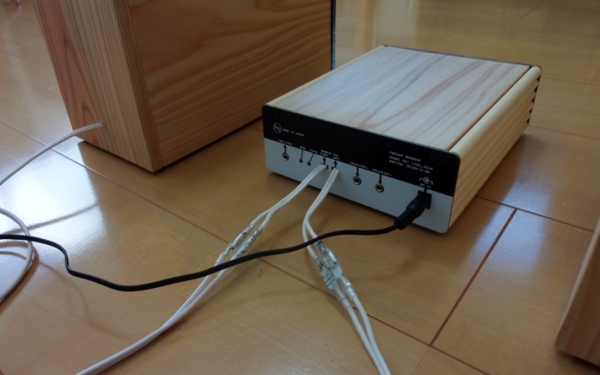 The AC adapter of accessories connects to the amplifier.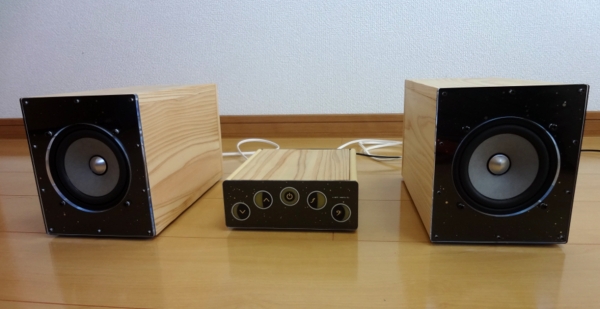 The setting is done by removing the protective cardboard for speakers.
Plugging the AC adapter into a outlet, switch parts lights up and when initialization of the amplifier is complete,
Sounding "PiPi" switch part is extinguished.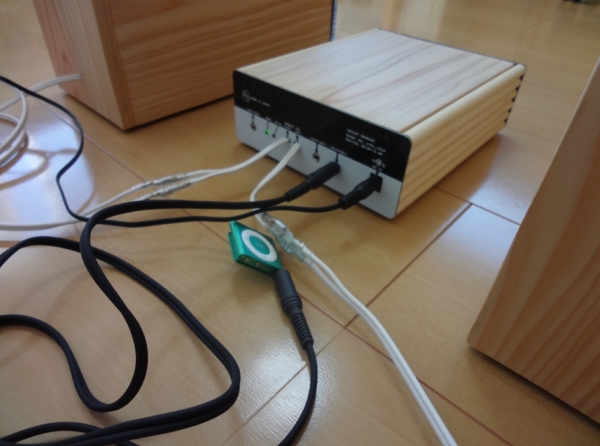 Then it connects to the sound source. In this photo, it is connected to an iPod using the stereo cable of accessory.
Both [Input1] and [Input2] connect place is fine either but ,as one guide, [Input2] side is recommended to connect headphones (iPod, etc),
It is recommended to connect to [Input1] when connecting to the LINE OUT terminals cannot control volume (a PIN on the back, such as a DVD player).
This is generally that headphone terminal voltage level is small compared with the LINE OUT Jack.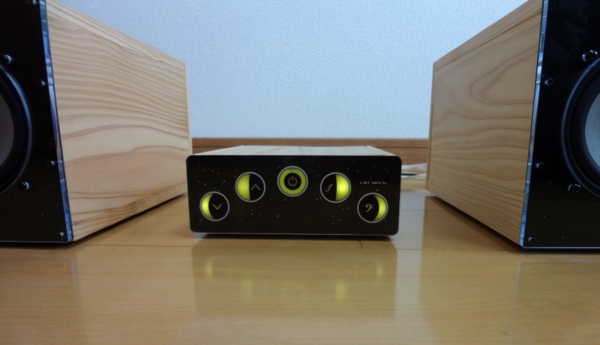 Touching the center power switch, power supply turns on. A few seconds after the all switch parts turn on.
Before starting flowing sound of music, the volume is minimized by touching music volume down button a few times until it blinks.
The sound of music starts with minimal volume. After this, please press the volume up button and adjust the volume of your choice.
* A good quality sound can be obtained by adding volume to the extent not to distorted
* If you need the volume, please press Forte button for adjust.
Now, it is the end of explanation. If you have any questions,please contact us by using a form of inquiry.